MoldReport™
Need A Mold Inspector?
(650) 742-8150
Need Mold Lab Services?
(800) 224-1527
For Consumers
Can I Use Home Mold Testing Kits?
What Is Mold Testing? How Is Mold Testing Performed?
How Much Do Mold Inspections Cost?
Questions To Ask Your Mold Inspector
Request Mold Inspection Referrals
For Mold Inspectors
Chain of Custody (pdf)
Download Products Catalog (pdf)
Buy Mold Testing Supplies (offsite)
Log-in to LabServe™ (offsite)
Join Our Network of Mold Inspectors
Mold Testing Labs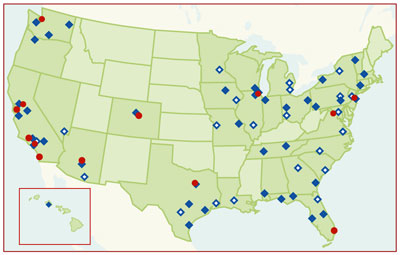 It depends. Sometimes mold testing is not necessary. For example, if there is a known roof leak that led to mold growth in a known, confined area, you should take appropriate actions, including fixing the roof leak and having the mold removed in an appropriate and safe manner.

Aspergillus and Stachybotrys on support beams.
Source: Eurofins EMLab P&K
There are many situations where taking a mold sample does not add any value and is not necessary. However, if you are purchasing a new home and suspect that evidence of a water problem or a mold problem may have been covered up, then mold testing might be helpful. So whether you should have mold testing performed depends on your actual situation, your budget and other concerns. Here are situations for you to consider:
Situation #1
If the mold testing results will not affect what you do, then you probably don't need mold testing. From our two examples above:

With the roof leak, testing and identifying the mold would not change the fact that you should fix the leak and have the mold removed.


With the home purchase, having evidence of unusually high levels of mold spores in the house could significantly change the terms of the real estate transaction or even whether the transaction continues.


Stachybotrys and small amount of Alternaria on unpainted drywall.
Source: Eurofins EMLab P&K

Situation #2
Mold tests are not perfect. False negative and false positive results do somtimes occur. Mold testing results are one piece of information, sometimes an important piece. But other pieces of information are also needed and are often more important and should take precedence over the mold testing results. For example, a good visual inspection of the property is usually essential for a good mold investigation and often more important than the mold testing results.

Penicillium and Cladosporium colonization on subflooring and supports.
Source: Eurofins EMLab P&K
So sometimes mold testing is not necessary. But if you want peace of mind for your specific situation, you should consult with a qualified mold inspector.