MoldReport™
Need A Mold Inspector?
(650) 742-8150
Need Mold Lab Services?
(800) 224-1527
For Consumers
Can I Use Home Mold Testing Kits?
What Is Mold Testing? How Is Mold Testing Performed?
How Much Do Mold Inspections Cost?
Questions To Ask Your Mold Inspector
Request Mold Inspection Referrals
For Mold Inspectors
Chain of Custody (pdf)
Download Products Catalog (pdf)
Buy Mold Testing Supplies (offsite)
Log-in to LabServe™ (offsite)
Join Our Network of Mold Inspectors
Mold Testing Labs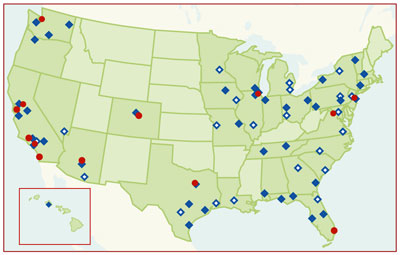 Finding a good mold inspector is somewhat akin to finding a good doctor or mechanic. Some time and effort is required and even with that effort, sometimes mistakes and poor choices still happen. However, you can still put the odds in your favor. We would recommend calling at least two (preferably more) mold inspection companies and ask for a price quote. Within the price quote, we recommend you ask the following questions:
What qualifications do you have to perform mold testing?
What certifications does your company have? What are the qualifications of your mold inspectors?
(Note: Ask what the certification requirements for any certifications they have either as a company or the individuals who will be performing the work. There are many certifications with some requiring much more work than others. Some are probably quite simple and, unfortunately, do not connote qualification to perform a mold inspection. Further, some may require a lot of work, but are not related to nor do they touch on mold itself. Take a moment to look online to find out what's required for any certifications they list.)
How many mold inspections did the person who will inspect my property do in the last year? How long he/she been in this line of work?
What is your hourly rate?
What is your philosophy regarding mold sampling?
(Tip: You're looking for conflicts of interest here. Does the mold inspector always recommend mold testing? Or are there situations where he/she says mold testing is not needed?)
What are the costs of each air and surface mold sample?
How many mold samples do you normally take?
Do you perform the mold sample analysis yourself? Do you perform mold remediation?
(Tip: You're looking for conflicts of interest here. If they also perform remediation, they have a vested interest in finding mold to clean up.)
Do you receive any kickbacks, commissions, or referral fees for sending work to mold remediators?
How long has the mold remediator you recommend been in business and what are their qualifications?
How long has your mold lab been in business and what are the lab's qualifications?
Do you have references from work done in the past year that I can call to ask how the work went?
What are your payment terms?
(Tip: Be cautious of paying up front for the entire mold testing job.)
Make sure you are comfortable with the communication and general style of the people whom you will be working with. You need to feel comfortable that your questions are taken seriously, you are treated with respect, and the mold inspection company has your interests in mind. Finally, if you become uncomfortable with the process once it has started, consider changing to another company.