MoldReport™
Need A Mold Inspector?
(650) 742-8150
Need Mold Lab Services?
(800) 224-1527
For Consumers
Can I Use Home Mold Testing Kits?
What Is Mold Testing? How Is Mold Testing Performed?
How Much Do Mold Inspections Cost?
Questions To Ask Your Mold Inspector
Request Mold Inspection Referrals
For Mold Inspectors
Chain of Custody (pdf)
Download Products Catalog (pdf)
Buy Mold Testing Supplies (offsite)
Log-in to LabServe™ (offsite)
Join Our Network of Mold Inspectors
Mold Testing Labs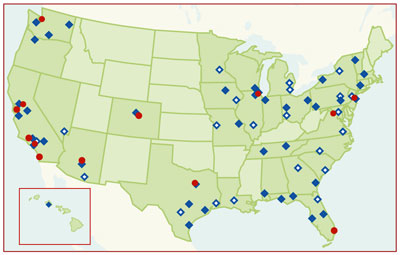 MoldREPORT™ helps mold inspectors answer the question – "Is there a mold problem here?" The mold lab report is fast, easy to understand, and inexpensive.

Charts and comparisons help you quickly understand the data from your mold samples. MoldREPORT™ is specifically designed so you can easily send your mold lab report to your clients, saving you valuable time. Using MoldREPORT™, it's convenient and cost-effective for you to communicate your lab results to your clients. Available in English and in Spanish.

See the difference! Download PDF sample lab reports below.
MoldREPORT™ Other Particles analysis
Analysis is available as a supplement to the MoldREPORT™ Spore trap analysis (above). Report includes identification of biological particulates other than fungal spores, quantification to particles/m3, and a general assessment of background debris.

Tabular Other Biological Particles
Tabular Quantitative Direct Exam analysis
Report includes identification to genus (i.e., group) of all fungi present, quantification to spores/cm2.

Tabular Quantitative Spore Count
MoldREPORT™ Culturable Air Fungi (includes Asp. spp.) analysis
Report includes identification of fungi present and quantification to cfu/m3.

Tabular Culturable Air Fungi
Allergen Screen
Allergen ELISA analysis for the following: Cat allergens (Fel d1), Dog allergens (Can f1), Cockroach Allergens (Bla g1), and Dust Mite Allergens (Der p1 and Der f1) in household dust.

MoldReport Allergen details
Tabular Allergen ELISA
Additional Analytical Services
Our parent company Eurofins EMLab P&K offers a full range of Mold, Asbestos, Bacteria, Allergen and Radon services. How can we help you?
Online Laboratory Services
MoldREPORT™ also offers online laboratory services through Eurofins EMLab P&K including:

LabServe™ – Online customer service 24 hours a day anywhere you have Internet access. LabServe saves you valuable time in data management and report writing, while creating a secure archive of your projects and reports.

Online Store – Purchase mold testing supplies and equipment.