MoldReport™
Need A Mold Inspector?
(650) 742-8150
Need Mold Lab Services?
(800) 224-1527
For Consumers
Can I Use Home Mold Testing Kits?
What Is Mold Testing? How Is Mold Testing Performed?
How Much Do Mold Inspections Cost?
Questions To Ask Your Mold Inspector
Request Mold Inspection Referrals
For Mold Inspectors
Chain of Custody (pdf)
Download Products Catalog (pdf)
Buy Mold Testing Supplies (offsite)
Log-in to LabServe™ (offsite)
Join Our Network of Mold Inspectors
Mold Testing Labs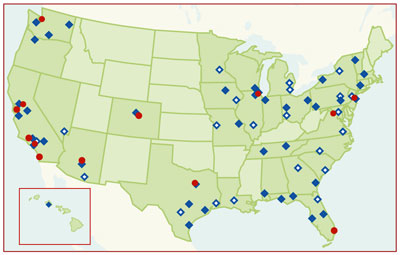 Essentially, if there is mold growth or a moisture problem, then you have or are likely to have a mold problem. It really is as simple as this: "If there has not been a water problem, then there is no mold problem."

Fixing the water problem and cleaning mold.
Source: Environmental Protection Agency (EPA)
However, determining if there is or has been a moisture problem can sometimes be difficult, especially if people are worried about past water problems that may have been intentionally covered up, as in the case of the sale or rental of a home, or if the leak may have occurred within a wall cavity or other difficult to directly inspect.

Stachybotrys behind vinyl wallpaper.
Source: Eurofins EMLab P&K
The number one thing to do is prevent water problems and quickly clean up and fix any water problems that arise. Mold needs water to survive. This is why you don't see mold growing on saltine crackers or croutons; they are too dry. So if you have a leak, fix it. The trickier problems involve resolving condensation that may take place in basements or bathrooms. In these cases, you may need dehumidifiers or other measures to eliminate the moisture problem.

Penicillium mycelium hanging off support beams in basement.
Source: Eurofins EMLab P&K