MoldReport™
Need A Mold Inspector?
(650) 742-8150
Need Mold Lab Services?
(800) 224-1527
For Consumers
Can I Use Home Mold Testing Kits?
What Is Mold Testing? How Is Mold Testing Performed?
How Much Do Mold Inspections Cost?
Questions To Ask Your Mold Inspector
Request Mold Inspection Referrals
For Mold Inspectors
Chain of Custody (pdf)
Download Products Catalog (pdf)
Buy Mold Testing Supplies (offsite)
Log-in to LabServe™ (offsite)
Join Our Network of Mold Inspectors
Mold Testing Labs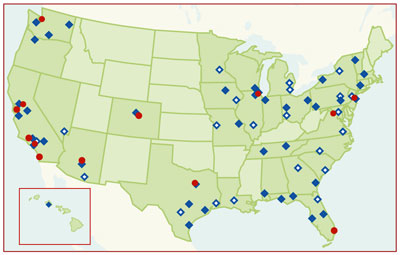 Mold inspection costs vary widely depending on the size of the property, extent of the mold inspection, number of mold samples, and other factors. We've heard of price quotes as low as $300 and as high as $3,000. While cost is clearly an important factor for most people, we recommend including other factors besides the mold inspection cost when choosing a mold inspector.
Why Do Some Companies Offer Free Mold Inspections?
We can only hypothesize why some companies would do this. Our feeling is they offer free mold inspections because they make money primarily from remediating any mold problems that are found. However, this puts them in a conflict of interest. If they make money from mold remediation, they will want to find mold problems during the free mold inspection. Otherwise, they won't make money.

Mold colonies on collapsed drywall and ceiling.
Source: Eurofins EMLab P&K
Is A Mold Inspection Different Than Mold Remediation or Mold Treatment?
Yes, they are different. A mold inspection refers to the process of assessing whether there is or has been undesirable mold growth in a building. Mold inspections may include a questionnaire about the building history, symptoms observed with the building occupants, a visual inspection, and mold testing.
Mold remediation (or mold treatment) refers to the process of fixing a mold problem that exists. Mold remediation may include fixing or resolving the water problem that caused the mold growth and cleaning and removing the mold growth or items affected by the mold growth.