MoldReport™
Need A Mold Inspector?
(650) 742-8150
Need Mold Lab Services?
(800) 224-1527
For Consumers
Can I Use Home Mold Testing Kits?
What Is Mold Testing? How Is Mold Testing Performed?
How Much Do Mold Inspections Cost?
Questions To Ask Your Mold Inspector
Request Mold Inspection Referrals
For Mold Inspectors
Chain of Custody (pdf)
Download Products Catalog (pdf)
Buy Mold Testing Supplies (offsite)
Log-in to LabServe™ (offsite)
Join Our Network of Mold Inspectors
Mold Testing Labs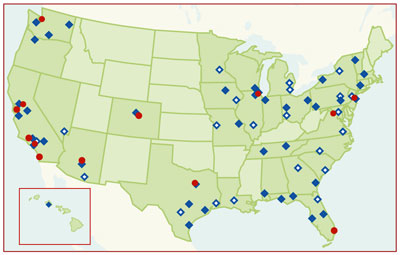 Yes, mold can certainly affect your health. However, there is a lot of misinformation about health effects from mold exposure. If you're genuinely interested in what health effects may or may not be caused by exposure to mold, then stick to peer reviewed literature and do not rely on unvetted articles found in blogs or on the web. Web and blog articles are often based on opinion, anecdote, or highly selective reading and interpretation of scientific literature. This website does not constitute medical advice. Genuine health concerns should be directed towards a medical professional. Below is our interpretation based on scientific literature we were aware of at the time of this writing.
Mold Allergies
The primary health effect most people will experience from fungi is an allergic response. The scientific community has developed a strong consensus that fungi are capable of causing an allergic reaction in susceptible individuals. Note that it takes time to develop an allergy – sometimes years. Consequently, it is generally not considered a good idea to live or work in an environment with a known mold problem because of the possible allergic response it may cause in people who already have mold allergies, and because of the potential to cause a genetically disposed individual to begin developing a mold allergy.

Mixture of Cladosporium, Aspergillus, and Penicillium on painted drywall surface.
Source: Eurofins EMLab P&K
Health Effects from Ingesting Mold
The health effect that mycotoxins produced by the fungi may have on individuals is a particularly divisive issue within the indoor air quality community with vocal advocates on both sides of the issue. There is a consensus that severe adverse health effects can be caused by ingestion of mycotoxins. So people should take care not to eat or ingest food that has mold growth on it. You should prevent infants and children from putting moldy items in their mouths. Severe adverse health effects from ingestion of mycotoxins are well documented in scientific literature.

Penicillium on wood and leather football.
Source: Eurofins EMLab P&K
Health Effects from Inhaling Mold
There is no good evidence supporting adverse effects due to inhalation of mycotoxins in normal residential or office environments. In fact, some scientific studies demonstrate health effects are unlikely to occur due to inhalation. However, the lack of studies demonstrating toxic effects due to inhalation in residential or office environments does not negate the fact that allergic effects can be significant and people should not work or live in moldy environments.

Mixture of Aspergillus, Cladosporium, and Ulocladium on painted drywall surface.
Source: Eurofins EMLab P&K
Pathogenic Mold
Pathogenic fungi do exist. These are primarily of concern for the immune compromised individual such as a person with AIDS or who is on immune suppressing drugs. Use common sense and avoid exposure to situations that are clearly unsanitary, such as cleaning roofs that have heavy amounts of pigeon droppings because there are organisms capable of living in these environments you should avoid.
Medical Disclaimer: The contents of the MoldReport website, such as text, graphics, and other material ("Content") located at moldreport.com and its subdomains or aliases ("Website") are for informational purposes only. The Content is not intended as a substitute for professional medical advice, diagnosis, or treatment. Always seek the advice of your physician, medical professional, or other qualified health provider with any questions you may have regarding a medical condition. Never disregard professional medical advice or delay in seeking it because of Content found on the Website.