MoldReport™
Need A Mold Inspector?
(650) 742-8150
Need Mold Lab Services?
(800) 224-1527
For Consumers
Can I Use Home Mold Testing Kits?
What Is Mold Testing? How Is Mold Testing Performed?
How Much Do Mold Inspections Cost?
Questions To Ask Your Mold Inspector
Request Mold Inspection Referrals
For Mold Inspectors
Chain of Custody (pdf)
Download Products Catalog (pdf)
Buy Mold Testing Supplies (offsite)
Log-in to LabServe™ (offsite)
Join Our Network of Mold Inspectors
Mold Testing Labs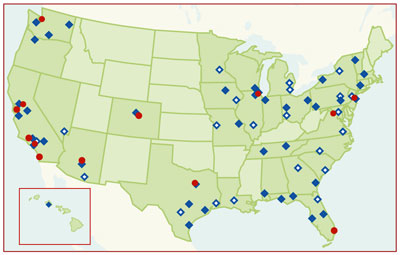 What is the Exposure Level in the MoldReport™?
The Exposure Level indicates how high the spore count per cubic meter is at the time of sampling. It is reported because if there are indications of a low probability of mold growth at the time of sampling but the outdoor ambient levels found are high, this might erroneously lead to the conclusion that indoor mold growth is occurring. Also, the average amount of air that an individual breathes daily is approximately 3 cubic meters and thus gives an indication of how many spores are being inhaled daily if the samples are taken under normal conditions.
On the Chain of Custody what does "ST" represent?
ST stands for spore trap.
On the Chain of Custody what does "DE" represent?
DE stands for direct examination.
Why is an outside sample necessary for a spore trap analysis?
In order to use indoor samples to help identify indoor growth, it is necessary to understand some of the outdoor contributions. Normally, most of the fungal spores found in indoor environments come in from outside, which is a nautral process and is not usally of concern.
If I did not take an outside sample, can I still have my spore trap sample analyzed?
Yes. But inside-outside comparisons cannot be provided.
Is an outside sample necessary for a Direct Examination?
Direct examination of bulk samples does not require outdoor samples.
Can weather conditions affect mold sampling?
Weather conditions strongly affect the outdoor aerosol. This is one reason why you need to sample outdoors at each site where indoor samples are collected. The sampler should be protected from rain and oriented "into the wind".
Can I (a homeowner) perform sampling myself? Or do I need a professional to perform the sampling?
It is important to have a trained professional collect air samples. A professional mold inspector does not rely only on air sampling results to decide whether or not a home has a mold problem. Carefully conducted mold sampling is combined with visual inspections and discussions with the homeowner. In addition, many different factors affect the reliability of an air sampler. The professional mold inspector understands these variables and accounts for them in the sampling plan.
How do I find a mold inspector?
Please review our Find a Mold Inspector page. You can also contact your local Department of Health agency, or contact us for a referral.
Where can I find more information?
Please review our Mold Information page.