MoldReport™
Toll Free: 800.224.1527
Email: info@moldreport.com
Mold Testing Labs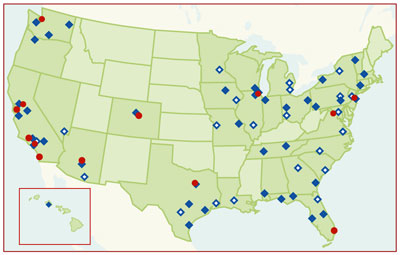 For Consumers
Can I Use Home Mold Testing Kits?
What Is Mold Testing? How Is Mold Testing Performed?
How Much Do Mold Inspections Cost?
Questions To Ask Your Mold Inspector
Request Mold Inspection Referrals
For Mold Inspectors
Chain of Custody (pdf)
Buy Mold Testing Supplies (offsite)
Log-in to LabServe™ (offsite)
Join Our Network of Mold Inspectors
Save Time and Energy
Why flip through a phone book or searching online? Just contact us online or call us, and we will search our database of professionals and provide you with referrals for mold inspectors in your area. Simple as that!
Quality & Accuracy From A Lab You Can Trust
Why is this important? Well, a good mold inspector using a mediocre mold lab could receive suspect testing results. If the lab results are inaccurate or poor in quality, that could result in unneeded work. Or worse, that could leave mold growing in your home. So the mold inspector's lab quality is very important. That's why we partner with EMLab P&K, one of the top mold testing laboratories in the United States. EMLab P&K continually improves its ongoing analyst training and quality assurance protocols to ensure you receive the highest quality and most accurate results from your mold inspection.
Receive Quality Referrals
At MoldReport, we do our best to give you quality referrals. When you receive your mold inspector referrals from us, you should review "Questions To Ask Your Mold Inspector" and check to make sure you are comfortable with the answers you receive. If you aren't satisfied, you can contact us for additional referrals.